Volkswagen Welcomes Its First Car Charging Robot Concept

3

min read
Reading Time:
3
minutes
Think of a future where electric vehicles (EV) don't have to go to a charging station to power themselves. Instead, an autonomous charging robot drives to their location and takes over the task of charging the EV. With the number of electric vehicles on the rise, finding parking lots equipped with EV charging facilities, far away from home, can be a challenge. Ideally, EV owners would want to charge their car whenever it is parked, so they are fully topped up and can be driven for a longer duration without any hassle.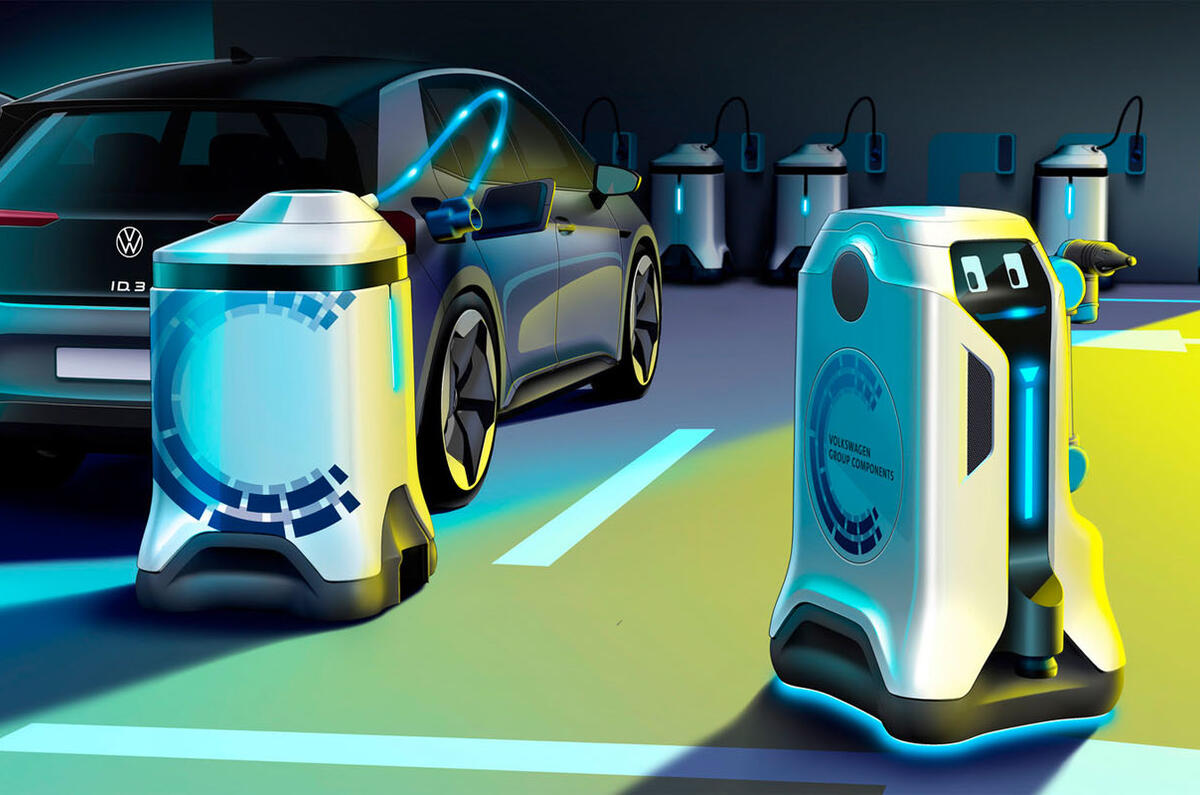 However, the number of these vehicles is growing far more rapidly as opposed to the number of EV-friendly stations or lots. Automotive giant Volkswagen has recently come up with a concept that makes any parking space EV-friendly. This innovation includes a mobile robot that can ferry around with fully charged battery packs and plug them directly into your vehicle.
How Does the EV Charging Robot Work?
Volkswagen's car charging robot drives itself to the location of an EV that needs charging by communicating with it through an app. This autonomous robot then opens the charging socket flap of the car and connects the plug to a decoupling, thus charging it. The entire process is quick and does not require human intervention.
A highlight of this robot is that it does not come alone! It rolls in with a trailer in tow. This trailer is a mobile energy storage device connected with the robot. While one EV receives charge by the energy trailer, the robot walks around charging other vehicles in need. Once the charging cycle is complete, the robot comes back for the trailer, hooks it in, and drives back to the charging station.
Also Read: EV Charging Stations in India to Become a Reality Soon?
Advantages of the EV Charging Robot
Volkswagen's car charging robot is bound to spark a revolution as it is capable of charging EVs any time and at any location. This machine works on the reverse philosophy of bringing the charging infrastructure to the car and not the other way around. When fully charged, the robot and its partner trailer can house up to 25kWh of energy each. This robot is also capable of carrying several battery trailers in tow.
This autonomous robot comes with cameras, ultrasound sensors, as well as laser scanners. The combination of all three allows it to reach the location of charging without hitting obstacles and also roam around intelligently within a parking space charging other EVs. Depending on the size of a parking lot, several such robots with their partner trailers can simultaneously charge countless EVs in record time.
EV owners usually need to park at a parking lot to charge their vehicle, but thanks to this tech, a driver could be stranded at any location and summon the robot to come to their rescue. This robot can also significantly reduce the cost of assembling and building EV charging infrastructure.
The Bottom Line
Volkswagen's car charging robot surely awards a glimpse into the future of EV charging. This unique piece of technology can also encourage more people to buy an electric vehicle since charging it will become much more convenient, unlike today. The manufacturer has not yet announced the market launch date of this machine, but with the soaring number of EVs on the roads today, this robot will become a reality sooner than later.