Singapore Smart City – An Inspiring Transformation

4

min read
Reading Time:
3
minutes
Under the administration of its founding father, Lee Kuan Yew, Singapore evolved from a dying nation in 1965 to a first-world nation by the end of the 20 century. In just over five decades, a country with land scarcity and no natural resources has become a financial center, an example in urban planning, and a model for developing nations. This multi-cultural city-state has gained a reputation as a hotbed of innovation and is known today for its 'smart' approach to solving urban issues. Read more about- Singapore smart city.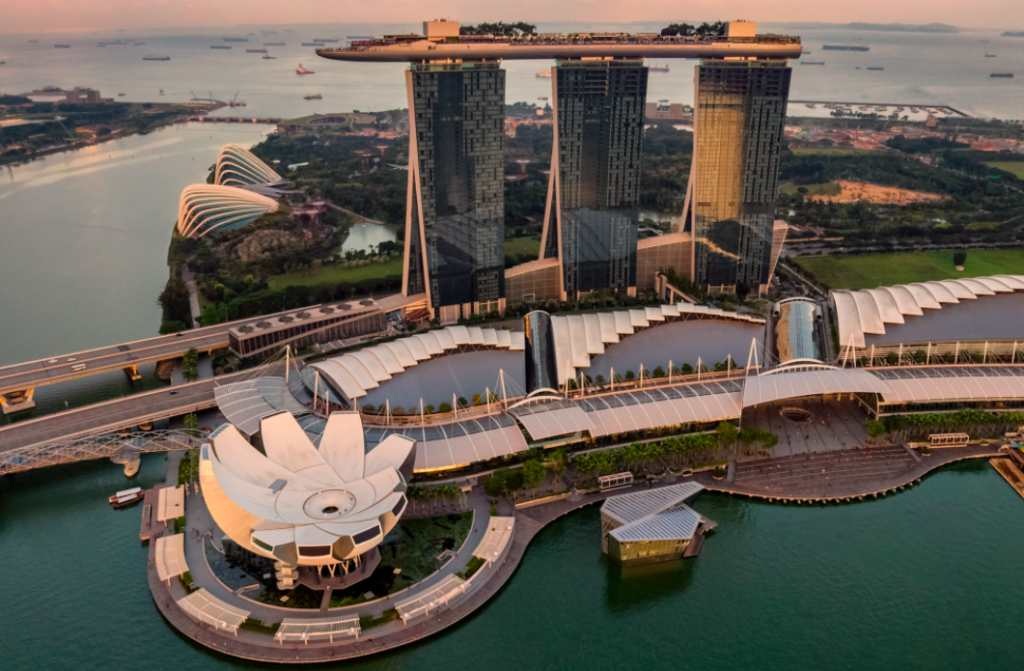 How Singapore's smart initiative is taking shape
Singapore announced its smart city initiative in November 2014. Gradually, the nation started pouring money into technologically rich ideas to overhaul the way cities are built and run. Standing at the cusp of a new industrial revolution fueled by digital technologies, Singapore is striving to prosper and stay relevant.
Singapore's Smart Nation goals are supported by three key pillars – Digital Economy, Digital Society, and Digital Government. This involves the public, private, and people sectors. Every industry and business is stepping up to accelerate its digitalization efforts to propel the nation forward. Let's take a look at how each pillar is supporting Singapore to reach its goal.
Tapping into the power of data
The digital age has endowed Singapore with a miraculous resource- data. This allows the country to overcome its geographic and resource limitations. The entire economy is being organized, enabled, and facilitated by emerging technologies – Big Data, Artificial Intelligence, and the Internet of Things.
By an estimate, the burgeoning digital economy is set to add US$ 10 billion to Singapore's GDP by 2021. An investment of US$ 40 million has been made into digital infrastructure to build an open and inclusive 5G ecosystem.
In the private sector, going digital is now an imperative for companies, big or small, across all sectors. The workforce is being nudged to pick up new skills as the economy embraces new technologies.
Introducing technology in several areas
The implementation of modern technology to improve citizens' lives has been a top agenda for Singapore's smart city initiative. A modern society rests on the smooth functioning and development of some key areas – Health, Education, Transport, etc. Singapore's strides in these departments serve as an inspiring model for other modern societies.
The rapid increase in urbanization has resulted in frequent traffic congestions and more air pollution. Data Analytics, Smart Systems, and Autonomous Vehicles have emerged as the key solutions for the future of transport planning and operations. Unplanned and unregulated parking spaces are part of the problem that is overshadowed by other bigger problems but is equally destructive.
To overcome this hurdle in the way of outstanding innovation, Singapore launched the 'Parking Guidance System' initiative, which uses data accumulation to give real-time parking availability to drivers. This helps drivers quickly locate a favorable parking spot, which results in less congestion on roads. Around 52000 surveillance cameras were installed on the roads of Singapore to enable authorities to have more control over the management of the traffic. Installing numerous sensors, travel time calculators, and roadmaps helped Singapore in achieving a spot in the list of the most organized countries in the world.
Being a small island, Singapore experiences an acute scarcity of land. With the country running out of land, the only way forward was up. Housing more than 5.7 million people, the architect planners were able to develop Singapore in a pretty sustainable way. Using sophisticated computer models, architects can position blocks of houses according to the geographical placement of the island. This allows the breezes to flow freely through skyscrapers. The planners also created land from nothing through a process called 'Land Reclamation'. The most prominent example of land reclamation is Marina Bay. Planned decades ahead of its time, Marina Bay has outdone itself in terms of infrastructure and technology.
Singapore Smart City- Government Initiatives
It wouldn't be wrong to say that the government of Singapore is way ahead of its time. By investing in innovations and making strategic bets in frontier technologies like Artificial Intelligence (AI), the government is ensuring that their digital, as well as physical systems, are intelligent or "smart" to the core. It is also rethinking its manpower and workforce strategies to create as well as grow the technology talent pool. Public officers with the skills needed for data science and analytics will make it more efficient and effective for the government to collaborate with the people and private sectors to deliver policies and services.
Singapore can act as an inspiration for all the leading powers of the world. It is using technology to offer modern solutions to modern problems ranging from health and education to mobility, transportation, and livability. It has created platforms for the community to grow, find new ideas, and create a positive change. Singapore can be treated as a testbed for smart city models that may become widespread 40 years from now when technology will rest at the heart of urban systems.