How Singapore is Excavating a New Road to A Smart Future

4

min read
Reading Time:
3
minutes
Singapore is gearing up to become the world's first smart nation. It was the first to implement digital technology and artificial intelligence on a largescale, long before the launch of many renowned smart cities. The country has already seen a significant shift towards smart cities, with the Singaporeans playing an active role in smart nation-building. Let's look at how Singapore is excavating a new road to a smart future & also some of the areas where Singapore has successfully managed the implementation of smart systems.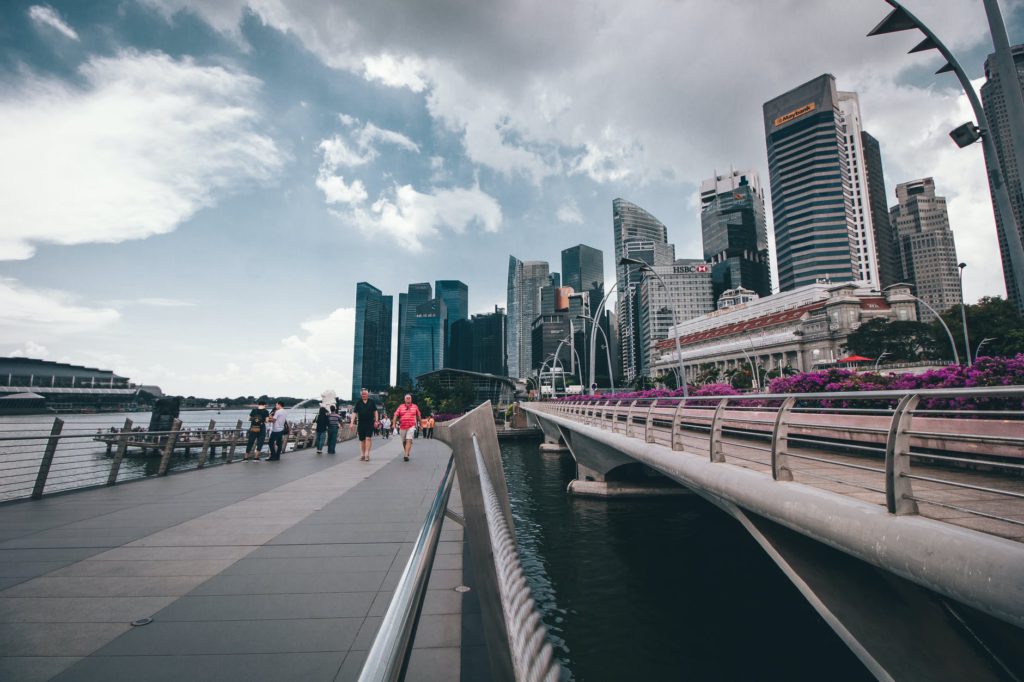 Transport
Building a smart nation isn't just about providing high connectivity speeds or online payment modes. The transition into a smart nation requires digitally revamping systems of transport, energy, and crowd control. Singapore has already brought significant changes in the transport ecosystem with the 'Smart' revolution.
With around 15% of Singapore's land occupied by roads and a growing population to account for, traffic management was the new imperative in this saga of 'Smartification' of Singapore. To counter the lack of space, which had rendered the then existing traffic management systems obsolete, Singapore deployed a state-of-the-art Intelligent Transport System.
With the Intelligent Transport System, vehicle owners no longer have to worry about clogged streets and long toll queues. The city has also devised subsystems like Electronic Toll System (ERP) to regulate the toll rate according to traffic flows. The charges increase with an increase in congestion, effectively encouraging citizens to travel sensibly.
Read: Singapore Smart City – An Inspiring Transformation
Energy and security
The lion city also has managed to tap into unchartered territories by employing smart tactics in regulating energy consumption. Singapore's intelligent energy system is a one-of-its-kind approach that allows users to monitor their monthly meter readings and pay their bills on the go. It also has an app attached to it that allows citizens to inspect monthly water consumption and thus uses water judiciously.
Furthermore, the island city has ensured the safety of citizens by establishing a web-based police center that enables the populace to file online reports and access any security-related information.
Waste Management
Singapore has also managed to make massive strides in digitizing waste management. In 2015, Singapore launched a smart waste management program for improving the collection efficiency of waste collectors. The system implemented a wide array of monitors and sensors embedded in the lids of garbage bins to gather information related to waste disposal. The information obtained, as a result, is then relayed to a centralized garbage authority.
Parking systems
The parking industry innovations date back to 2008 when the city-state was facing immense inconvenience due to congestions caused by outdated parking systems. In answer, the administration developed an initiative coined as the 'Parking Guidance System,' under which denizens could access parking availability in real-time without hunting for parking spaces. The initiative had a mobile app named MyTransport.SG built around it, along with smart electronic displays dispersed across the city. This integration allowed efficient utilization of parking spaces, along with unclogging the streets of unnecessary congestion.
Recent developments in artificial intelligence and the immense popularity of smart cars in Singapore also saw the pioneering of a barrier-free smart park system integrated with the ubiquitous GoParkin mobile app to provide a seamless, ticketless, and barrier-free parking experience. The system saves its users a ton of time with mobile payment technologies. It is also armed with number plate detection and data analysis to overcome many issues related to traditional car parking.
V2X
The newest addition in the long list of smart developments, V2X, or 'vehicle to everything' is a revolutionary new idea disrupting the transport industry.
The program is the brainchild of a team of researchers at Nanyang Technological University (NTU), which has turned the western part of the city into its testing ground for the novel technology.
V2X programs will work in two ways:
Vehicle-to-Vehicle (V2V): The V2V system will empower two different vehicles to communicate without logging in to a full-fledged network. An independent network system will be incorporated to realize V2V.
Vehicle-to-infrastructure (V2I): A successful implementation of the V2I architecture would allow vehicles to be connected with traffic lights, road signs, and several other sensors deployed to track vehicles. This interconnection would result in automated traffic lights that self-time themselves depending upon the traffic. Moreover, the entire V2I system will be continuously connected to a central monitoring agency, relayed with real-time traffic information.
In Summary
Not only is the 'Smart' revolution a step towards providing a better standard of living for the populace, but it's also a way to reduce the increasing burden that's taxing the environment. With continuous innovations and a consistent effort on the part of citizens and government, it's not farfetched to say that the island nation is on the road to becoming the world's first smart nation. You might have got an idea about how Singapore is excavating a new road to a smart future.