How to Design a Parking Lot's Safety Systems

4

min read
Reading Time:
3
minutes
While parking lots can vary in size, function, and design, there is one thing they all must provide: safety! Our final blog in the series on car park design will focus on how to design a parking lot's safety systems while making sure they are future-proof and sustainable.
When designing a parking lot, you consider its traffic flow, entry/exit points, space efficiency, and reliable parking barriers. All of these features are crucial to a parking lot's layout, but you must not overlook adding others that can make your project more reliable over the long term.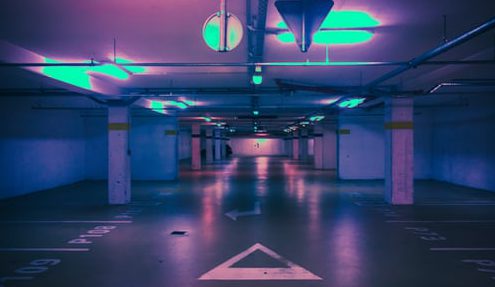 The three key factors that you must focus on while cementing your safety features are adequate drainage, accessibility, and lighting. Keep reading to learn how these factors come into play while designing a parking lot's safety.
Provide functional drainage to prevent potholes
The asphalt used to pave parking lots serves as a strong barrier between moisture and the underlying layer of soil. But if you don't provide adequate drainage, water may accumulate on the asphalt surface. This stagnant water will gradually destroy the bonds between the asphalt binder, sand, and rocks in your pavement.
Erosion by water can be insidious. By weakening the asphalt, it harms your pavement's ability to handle the traffic load. Eventually, cracks and potholes may form, leading to the tripping of heavy vehicles. This is why a proper drainage system is a vital aspect of a structurally sound parking lot.
To nip these safety hazards in the bud, you must make drainage provisions as early as possible. While designing your parking lot, make sure that your pavements have an adequate slope, preferably 1-2%, so that no water can pool on the surface.
Add access ramps 
The Americans with Disability Act (ADA) requires public spaces such as parking lots to be accessible to people who rely on wheelchairs, strollers, and walkers.
Without an ADA-compliant ramp, your parking lot might create hazards for people with disabilities. Potential risks include tripping while using a walker and falling off a wheelchair or scooter.
To ensure maximum safety, design your access ramps so that they are slip-resistant, and follow these ADA standards:
All parking lot ramps have a running rise-to-length slope of 1:12.
The cross slope must be no more than 1:48.
All the ramps must have a horizontal run of at least 30 inches.
Any ramp that is more than 6 inches tall or has a horizontal projection of more than 72 inches must have robust handrails on both sides. For better access, they must also extend at least one foot beyond the length of the ramp at both ends. Leave a minimum width of 36 inches between the handrail.
Provide edge protection along the ramp's runs and landings so that wheelchair casters and crutches can stay on a flat surface. You can provide edge protection with barriers, extended surfaces, and curbs.
Also Read: How to Design a Parking Lot's Size
Ensure good lighting, but prevent glare
In a well-lit parking lot, people walking to and from their vehicles feel safe. The lighting also provides greater visibility and added security to the parked cars by reducing the chances of theft.
Different parking lots require different lighting levels, patterns of distribution, and types of lighting fixtures. The layout of your parking lot also determines how you will need to place your light sources to minimize glare that can cause accidents.
While designing the lighting of your parking lot, make sure that you offer uniform brightness all across the vicinity. To prevent drivers from losing visibility due to excessive brightness, keep light pollution away from parking spaces. One way to minimize light pollution is to use light fixtures that face downward.
To prevent theft, provide ample lighting near stairwells, ramps, elevators, and the exterior areas of your parking lot.
In summary 
Knowing how to design a parking lot's safety systems in the proper manner can minimize risk and even save lives. So, design a reliable drainage system, provide accessibility to the elderly and the disabled, and illuminate your parking lot adequately.
By taking these measures, not only will you keep others safe, but you will also protect yourself from damage, and injury claims.