Get My Parking Welcomes New VP Sales, USA – Meet Jordan Schware

3

min read
Reading Time:
3
minutes
Get My Parking is excited to announce the appointment of Jordan Schware as the Vice President of Sales for the North American market. As a veteran of the American parking industry, Jordan brings an incredible wealth of experience in strategic sales optimization to our team. His entrepreneurial spirit and his expertise in building deep and long-lasting customer relationships will help the company drive profitable growth across North America.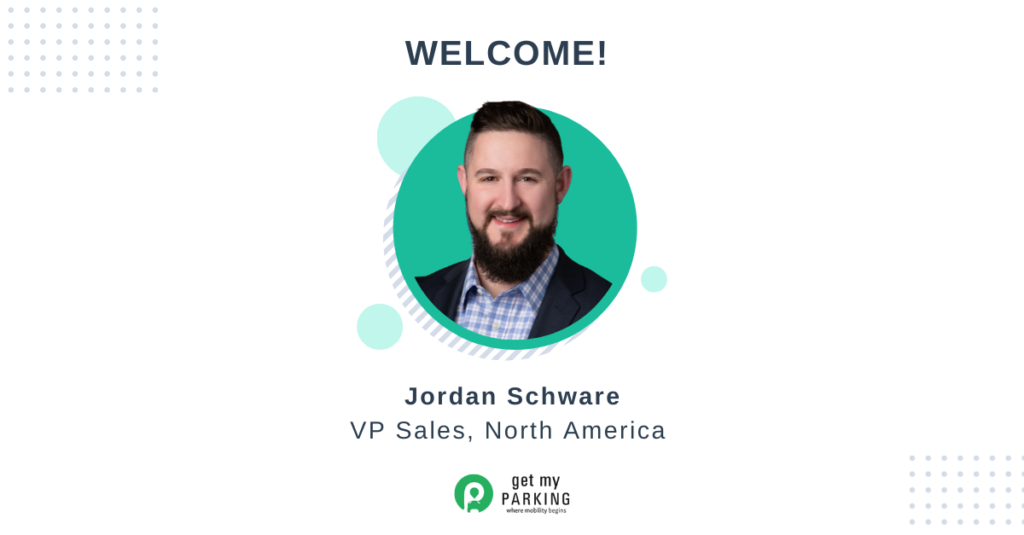 Jordan expressed his excitement on joining the company,
"Get My Parking is playing a pivotal role on a global scale in bringing an interoperable smart parking system to the mobility landscape with a passionate and talented team in place to continue their vision of making every parking transaction a sub-conscious experience. I am humbled and honored to join and excited to get started on growing the North American market."
Jordan is a SaaS Sales Leader who comes to GMP from Sovrn, an international web publishing, and data business firm, where he managed sales efforts in the new logo business acquisition on the global data market. Jordan has also worked for three years at FLASH Parking as a Sales Manager, taking care of the markets in Minneapolis/St. Paul, Denver, and Salt Lake City. FLASH Parking is one of the leading parking and mobility providers in the North American continent.
Jordan has also worked at Hollander International Systems Ltd, where he was a business development specialist serving more than 300 active accounts in the US and Canada. He was successful in driving program goals and results of revenue growth trending at $143 million in 2018.
Jordan's addition to the company will help GMP continue to digitize parking on a global scale using their open IoT-based smart parking management platform. GMP products upgrade physical parking lots into digital mobility hubs equipped with contactless access and cashless payments. As a leading smart parking start-up, we also help operators integrate existing hardware with any third-party mobile app or cloud software. With this interoperability, operators can launch their own custom-branded consumer app in just two weeks using the GMP Platform.
The company is also spearheading new trends like EV charging, lightning-fast QR-based payment, connected cars, and shared mobility hubs in parking real estate with Plug-N-Play API integrations. This is all offered as a white-labeled Software-as-a-Service product.
In response to Jordan's integration into the team, Chirag Jain, CEO, Get My Parking said,
"Parking in today's world needs to be meticulously thought out – from ensuring a contactless and hassle-free parking process for the consumer to helping operators manage their car parks remotely, efficiently and profitably, every detail needs close attention. Jordan's experience in leading his team at FLASH Parking will add immeasurably to our team's growth. With his help, we can confidently go ahead with our plans of expansion in North America."
Mobility industry leaders are rapidly changing the landscape of parking to transform it to the end-point of every mobility transaction. However, most parking lots still use legacy equipment that is not compatible with cloud software or mobile applications – GMP's retrofitting technology ensures that operators can go digital without having to buy expensive new parking equipment, reducing the amount of resource wastage and pollution that comes from the manufacturing process.
With Jordan joining our team, Get My Parking has the backing of a seasoned sales professional who believes in our vision of making parking a better experience for people around the world.
About Us:
Get My Parking is an award-winning provider of an Interoperable Smart Parking Platform that connects all parking and mobility stakeholders on a common platform who were until now operating in silos. It comprises a team of doers with a clear mission to digitize the parking industry globally.
Get My Parking (GMP) was founded in 2015 by Chirag Jain and Rasik Pansare with a vision to make every parking transaction a sub-conscious experience. With a strong foundation of the team, technology, and partnerships, GMP is creating a future-proof platform to connect the parking industry internally as well with urban mobility players.