The Infamous Parking Ticket Prices at SoFi Stadium and its Perils

3

min read
Reading Time:
3
minutes
The eagerly awaited So-Fi stadium in Inglewood, California, finally opened its doors to fans in September 2020. Since then, this stadium has been the grand host of popular events including a 4-day BTS concert and the NFL 49ers and Rams game. However, the parking ticket prices at SoFi stadium have caused quite the turmoil among the visitors.
SoFi stadium was built with a capacity of over 100,000 people, and while this showcases its pre-empted popularity, what authorities did not anticipate was the parking mayhem, which raises the parking prices each time an event takes place here.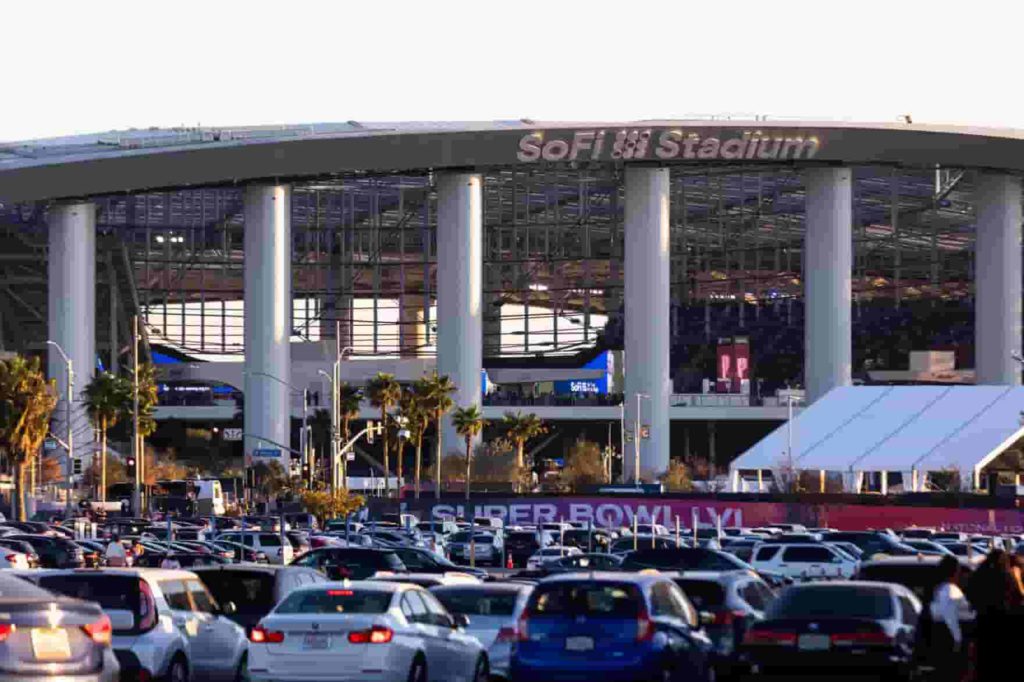 Image Source
What are the parking ticket prices at SoFi stadium?
Avid fans flocked to this stadium from different parts of the country, as they would at any other stadium. However, what shuddered them here was not only the high-ticket prices but the exorbitant parking fares inside the stadium.
The on-site parking tickets at SoFi stadium were priced over $300. Sure, this is still less than half the price of the cheapest game ticket. But, can you imagine paying 300 dollars for parking! And, that too, not for a Super Bowl game.
What made matters worse was the staggering off-site parking rates. Even though fans were willing to walk a substantial distance between their car park and stadium, the alternative parking prices were unjustifiable. For example, a nearby high school's parking lot allowed fans to park on their premises for a whopping $175.
Homeowners living close to the stadium also cashed in on the plight of 49ers and Rams fans by opening their driveways to park. But, at a charge of $300! At this rate, the parking charges for Super Bowl Sundays might cost more than the cheapest stadium ticket, chimed a ticket broker. Presently, the cheapest seat at the stadium costs $599. Add this to the parking fare, and a fan ends up paying close to a thousand dollars to watch a Ram-49ers game!
A similar problem arose when the K Pop band BTS performed for 4 days at full capacity at the SoFi stadium. The overpriced parking fares and a shortage of off-site parking led to a horrendous traffic situation.
Also Read: Most Expensive U.S. Cities for Short-Term Parking
Where are the authorities?
More than the charted events, SoFi stadium is gaining a notorious reputation for traffic-related troubles. Building a stadium with such a high seating capacity with limited parking is causing traffic delays, with slow-moving traffic blocking the roads. Not only is this alarming for fans, but also for residents who now struggle to find off-street parking for their vehicles.
Fans report that the time it takes to get in and out of the stadium parking is obscene, leading to missing part of the event, even when they come early.
Fortunately, authorities are not blind to what's happening and have come up with a few make-shift solutions until they iron out the kinks in the parking situation. They encourage fans to arrive early and purchase on-site parking online.
If they don't, stadium authorities implore attendees to check out Inglewood's iParkandGo scheme for additional parking spaces.
To conclude
Even though several online forums say that the stadium has 17 parking lots, the authorities at SoFi don't seem to reveal the exact available number. Perhaps not all lots are functional, or worse; they can't hold the traffic ushered their way before a big event.
Temporary solutions can't handle traffic inflow at the SoFi stadium forever. So, the parking menace will continue to raise the parking fare. Unless authorities identify or build additional smart parking facilities nearby that optimize space by parking vehicles vertically and allowing fans to book and pay for their slots in advance.