Reducing Crime at Parking Lots: What Operators Can Do?

4

min read
Reading Time:
3
minutes
Over the past two weeks alone, Las Vegas witnessed a double homicide – Martinsville Henry County saw a shooting, Silver Spring witnessed a car run-over incident. All of these incidents took place in parking lots. The Las Vegas double homicide occurred in the parking garage of a local hotel, the shooting in the lot of a restaurant, and the run-over incident in a bank parking lot. Reducing crime at parking lots is proving to be really difficult for authorities.
A parking lot is a common crime scene – these areas are often dimly lit, have plenty of vehicles for cover, and have long periods of inactivity. Many lots still use outdated systems to keep a record of vehicles, making it harder to track culprits in case of an accident or crime.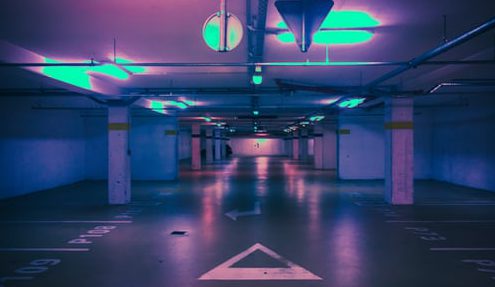 No doubt, it's high time operators take parking lot security seriously. But where should you start? Well, here are six tips to get you on the right track.
6 Tips of Reducing Crime at Parking Lots
Install Retrofit LED Lighting
There's a fair chance that your parking lot is dim, especially if it still usesincandescent bulbs or HID downlights to illuminate the space. Know that both these lighting solutions are grossly inefficient for the power they use, and more importantly, they wear out quickly.
Along with being more power-efficient, retrofit lighting also improves parking lot visibility, thanks to its greater brightness, directional light, and more accurate colors, without straining the eyes. And that's not all!When you install retrofit LEDs, you can control the brightness and light timing remotely. Also, you save more on your electricity bills with retrofit LED lighting!
Another way to improve lot security is to control who can access the parking facility. You can do this by introducing a digital ticketing system for parking and by upgrading security gates, booths, or arms to manage pedestrian and vehicular access. While you're at it, you can also monitor private areas through cameras as these nooks provide hiding spaces to attackers. Or better yet, introduce structural obstacles in these areas like cement blocks, etc., to further hinder access.
Security guards ensure that people obey parking rules – they deter thieves and kidnappers and reduce the frequency of accidents by being vigilant when someone's trying to park. It also provides physical proof of security to customers. This means you'll never have to worry about litigation on the grounds of negligence, even if a customer falls victim to a crime or accident.
Invest in smart monitoring systems
Even the most attentive security guards cannot provide 100% protection because they cannot patrol all spaces all the time. Fortunately, smart video monitoring systems take care of it. These days CCTV cameras come equipped with thermal motion sensors and license plate recognition (LPR) technology that make it easier to identify wrongdoers. What's more, these systems automatically sync the data to the cloud, thereby helping you monitor your parking lot remotely
Implement voice-activated security sound systems
There's a small chance you might miss out on security breaches even with a smart video monitoring system in place. So, why not install a voice-activated security sound system (VASS) to supplement it? Being sensitive to sound, VASS is immediately activated when someone is attacked. Once triggered, it automatically sends a notification to security personnel while directing all the available security cameras to focus on the activity.
Install panic buttons and phones
As a parking lot owner, it is your responsibility to ensure car owners have no qualms regarding their safety. Hence, it is important to take customer complaints seriously and quickly respond to them.
One way to do this is to install phones at regular intervals that directly connect to the security office, so car owners can call for help instantly during an emergency. Don't have the funds to install phone lines? Install panic buttons on the light poles instead. When pressed, they automatically notify the security office that dispatches guards to the spot immediately.
In conclusion
Remember, with crime rates in parking lots currently on the rise, even a little security upgrade goes a long way. For reducing crime at parking lost, you can choose a few systems from this list, depending on your needs and budget, and still improve your lot's security dramatically. After all, only if your customers feel safe will they trust their vehicles (and lives) with you.