What is Spotify's Car Thing?

2

min read
Reading Time:
2
minutes
"Hey Spotify! Play Leave the Door Open by Silk Sonic." With Spotify's Car Thing, your car will listen and respond to your voice commands.
With their first-ever in-car accessory, the streaming giant lets you play and control your favorite tunes, podcasts, news, and talk shows without having to fumble for the right track.
And it's oddly called the Car Thing.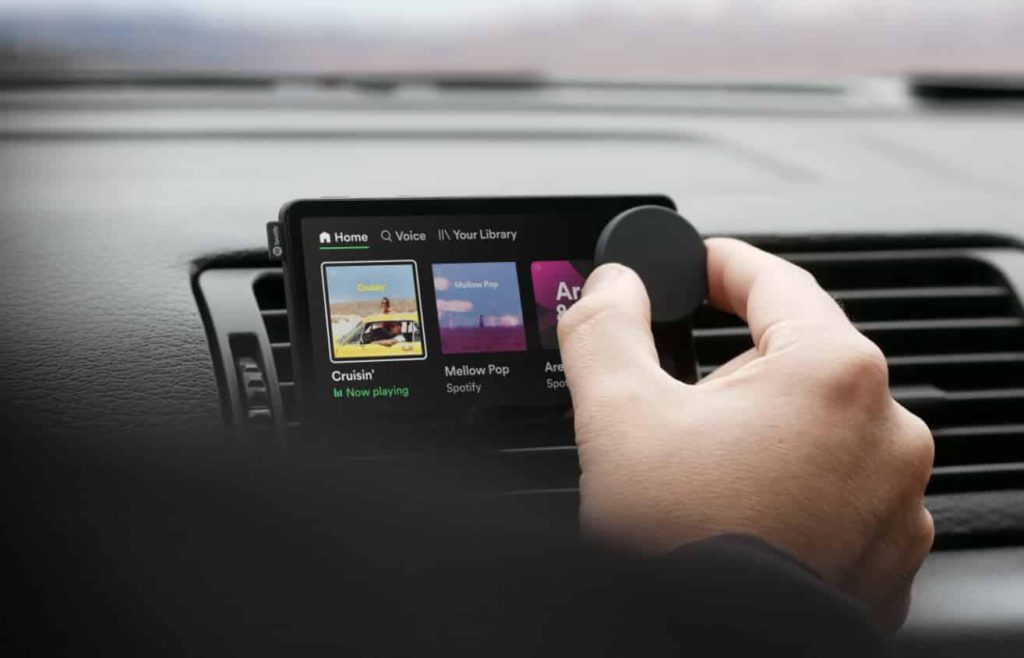 Image Credit: Spotify
What is Spotify's Car Thing?
Spotify's Car Thing is a smart music player designed specifically for cars without sophisticated infotainment units. It is a concert of five buttons, a single dial, and mics for voice recognition, with a brightly-lit 4-inch touchscreen designed to enable a seamless in-car audio experience.
No matter what your car model is, you can just mount the Car Thing inside your car and enjoy the music the way you like. It works the same way infotainment systems of smarter cars do, but better.
How does the Car Thing work?
The Car Thing starts with the mount. You'll get three mounting options: the CD player mount, the Dashboard mount, and the Vent mount.
Once the smart display is mounted, you'll need to connect it to the Spotify mobile application on your smartphone via Bluetooth. But before you can stream anything on the device, you will have to connect your smartphone to the car's stereo system with an aux, Bluetooth, or USB. The device will use your mobile data connection to play your tunes.
To allow users to interact with the device, the Car Thing has three controls to offer. You can turn the dial and the buttons, use voice commands, or interact with the intuitive touchscreen to switch between tracks, playlists, podcasts, and more.
How to buy Spotify's Car Thing?
Unfortunately, only US residents can buy and experience the Car Thing. The device is yet to hit the international market.
It retails at $89.99, including the shipping charges. You can place the order for the device on Spotify's official website. However, you will need a recurring Spotify Premium subscription for the device to work. It could be the Family, Individual, or Student plan. In the case of the Duo/Family plan, only the plan owner can purchase the device.
You can check out more details about the Car Thing here: carthing.spotify.com.
Time to face the music
In a nutshell, Spotify's Car Thing offers a dedicated display for easy and seamless music control. As of now, the device has nothing more to offer.
But with updates like a Night Mode feature to dim the display light during the evening and an "Add to Queue" voice command underway, the Car Thing is gearing up before it hits the road worldwide. Will the device succeed in capturing the market while competing with inbuilt infotainment systems? Only time will tell.